In this article, we talk about our talented colleagues. Who are they — our #leverxpeople?


Aliaksei Dzemianenka (Draws and Create Building Models)


Aliaksei, you often amaze your colleagues with your creativity, either with new drawings on the coffee point or with a detailed model of our office bulding. Do you remember the beginning of this journey?

— I started doing creative things in the company about a year ago. The first was a drawing for our head. I was supposed to have an assessment that summer but for certain reasons, it was rescheduled.
Then, I drew our head's car on a glass board and wrote "Where is the assessment?" And the hint here was a nail that I attached next to the painted car with magnets. :)
Everybody recognized the car and liked my drawing. Then, I started getting orders for drawings.
What do colleagues usually ask you to draw?
— Initially, they asked me to draw cars, and then, as an anime fan, I started drawing anime catgirls. Sometimes, I also create various things for our corporate events. So we can say I'm a kind of adman.
How often do you draw pictures for your colleagues?
— Typically on Saturday or Sunday. On weekdays, it is already difficult: previously, one drawing took from 15 to 30 minutes, now it takes more than an hour. I have a magnetic dry-erase board at home, on which I started practicing drawing. Then, I come to work and draw on the board at the coffee point. My works are not created out of my mind: I use a stencil to draw the outline and then, I draw small details.
How long have you been interested in drawing?
— I had the highest grade in Art lessons at school, but that doesn't matter. :) My sister draws much better than I do. My case is all about perseverance, not talent. I like to spend my free time doing something, knowing the results will make other people happy.
It follows the main goal is to make others happy. Isn't it?
— Well, I'd say so :)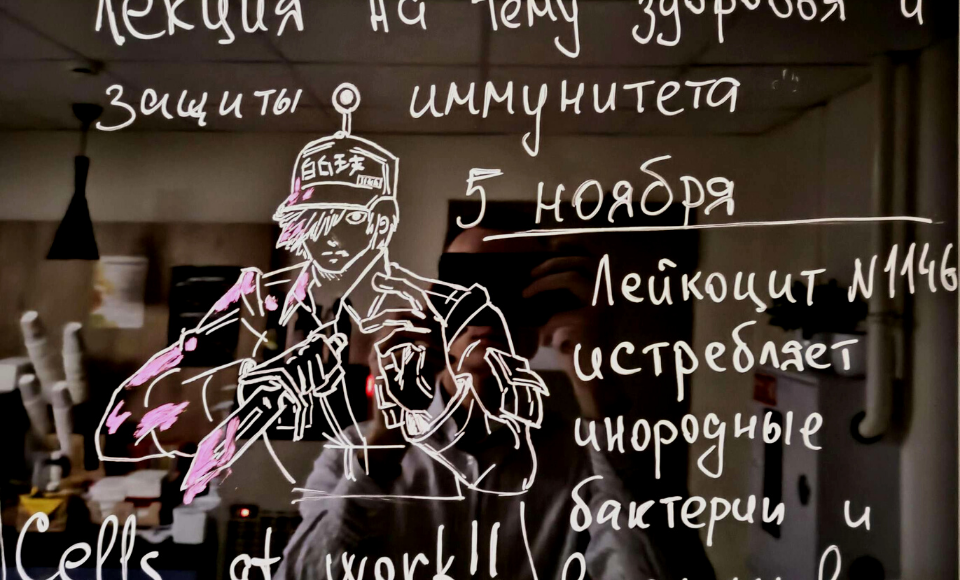 What do you gain from drawing?
— When I started drawing, I was working on two projects at the same time. This was a lot of pressure, and drawing helped me relax.
Besides drawings, you also surprised your colleagues with the model of our office building. Have you ever created something like this before?
— As a child, I attended straw weaving classes and I liked to make straw spiders. But I did a paper model for the first time.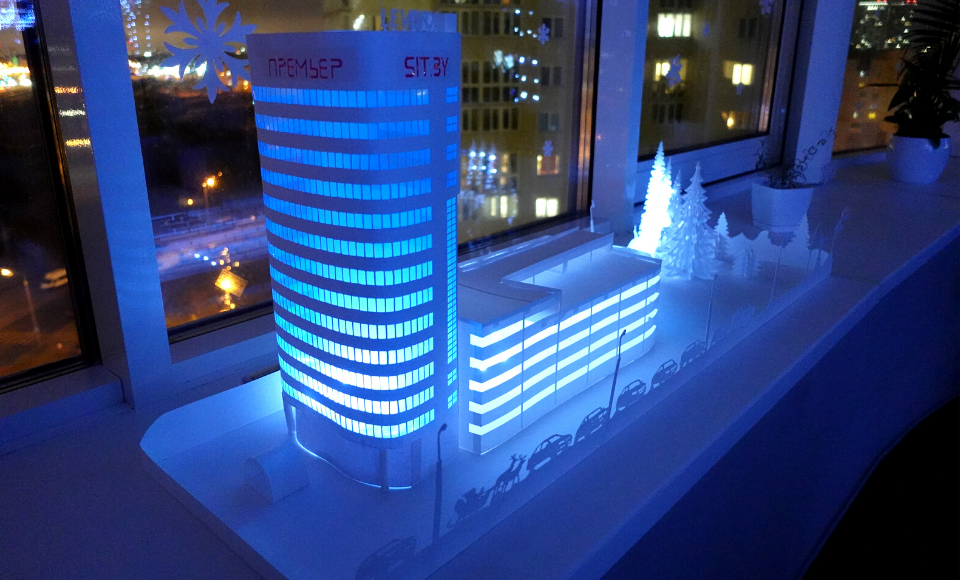 How the idea to recreate one of the company's offices from paper was born?
— This idea was born thanks to my colleague Darya Pankova. She was decorating our office for Halloween, and I volunteered to help her with the New Year's decor. She had an idea to create a small city out of illuminated paper, but it seemed so easy to me. That's why I decided to make a model of our office.


How long did it take to create it?
— I spent all my free time for 3 weeks. I wanted it to be as close as possible to the original, and that was the main difficulty. For example, there are more than 500 windows in the building and all of them were cut out manually. A lot of time was also spent on a paper Christmas tree. It has four parts with many small details that had to be spliced with small strips of double-sided tape.
What inspires you in your hobby?
— I like to help people, and I'm always glad to create something that can bring people joy.